The twins and their Toys
My twin boys are your regular 6 year old, very wild couple of kids. They play with the usual toys, Lego, dinosaurs and cars. I have always been firm in not allowing them have toy guns, I just don't see the need to "play" with something that in the real world can kill someone and does kill people. Slowly though in the last year or two a odd toy gun would appear in the toy box.
Their play would be rough, wrestling, shooting, someone getting killed or under arrest. I have often seen a nice friendly play with their Fire Man Sam characters end up with someone getting violently eaten by a T-Rex! I was not worried in the slightest by this type of play, but I just reckoned I would love to see how they would play with life-like characters very similar to themselves. I remember when Chloe was their age, she would play happily and gently for hours on end.
Sammie and Finn
I had heard about Lottie Dolls but I wasn't aware that they did boy dolls. Lottie very kindly send the twins a doll each to play with and see what they made of them. So Sammi and Finn arrived to our mad house about 5 weeks ago! I wondered how they would take to the doll but they were delighted with it. I thought there may be a bit of "but dolls are for girls!!" there wasn't even a mention of anything like that. Jamie took Finn the Kite Flyer and Cian was delighted to have Sammi the journalist who wrote for the school paper.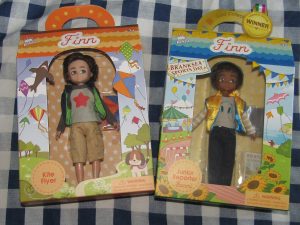 That evening I let them play by themselves and apart from telling Cian what a journalist does, I had zero input. First impressions, they couldn't get over how the dolls had the same shoes as them, the same clothes and had cool accessories. They played on the mat with the dolls and I was amazed how gentle the play was. Not at all like them, and neither Sammi nor Finn got kidnapped, murdered, was put under arrest or eaten by a T-Rex the whole time!
It took I would say 2 hours before the investigation began to see what underpants the dolls had on, when it was established they did not have any underpants and they had "Bums" there was a lot of giggling!!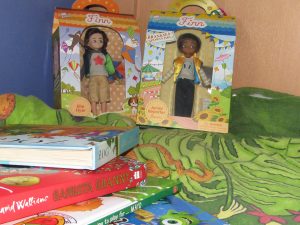 I let them play independently with the dolls for a couple of weeks. Then I went investigating where they were. These were my findings!
How the Lottie Lads were Settling in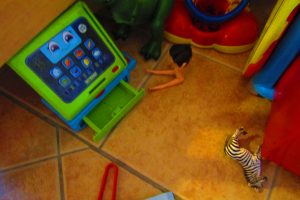 So I found Finn in amongst the toys, he seems to be working as a sales assistant now and has left his kite flying days behind him, oh ya he's also naked, not a stitch on the poor chap and him working a full time job. I asked Jamie where Finn's clothes were, he told me there were in the wash. Can't argue with that now can?! Sure enough I found Finn's clothes in the laundry basket! I dressed Finn and gave him his kite and his dignity back.
Then I went hunting for Sammi, I searched all the toy boxes, bags, underneath couches, under beds, in beds eventually I found him here…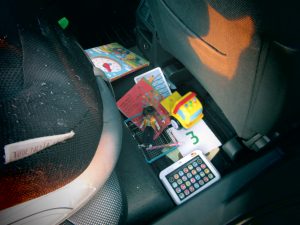 Can you see Sammi? Yep that's him on the floor of the car, in a basket amongst some other toys and books. He looks like he may have been involved in Finn's new supermarket job and maybe he's doing the deliveries? I asked Cian what was Sammi doing in the car and he replied "He's getting a lift!" I didn't ask any more but I am sure wherever Sammi was coming from or going to in the car was going to be interesting! And if nothing else, at least this chap has all his clothes on!!!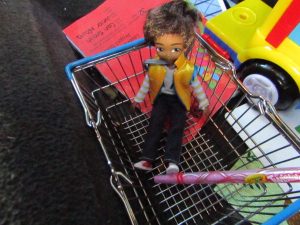 The Future for Sammi and Finn
The boys are very fickle when it comes to their toys, they have never LOVED a toy so much they would play with them constantly. Most toys they get are rarely played with to be fair, but I do notice Finn and Sammi is getting played with a lot more than I expected after a few weeks being here. Finn had an incident with his kite and it got caught up in the laundry with his clothes (again!) so I have to get him a new hobby! So my next purchase will be accessories for Finn and Sammi. I'll let the boys decide what accessories they want to get for each doll…this should be interesting!! I know they have their eye on the scooter set and fishing set!
So that is how my twin boys got on with their Lottie boy dolls. I am delighted with how well and gently they are playing with them. I also love the fact they have their own individual dolls because it must be nice having something that's uniquely yours when your an identical twin!
Here is some info if you are thinking about purchasing a Lottie Doll for your little one and there may be a cheeky competition to win a Lottie Doll, keep reading!!
Who or What is Lottie Dolls
The developers of the Lottie Dolls (Arklu) recognised how short and precious childhood is. Childhood has changed even from my generation 30 years ago. It can be a pressurised environment for a child. They wanted to strip back the stress of being a child in today's world and just let them be a kid again, with no complications, feel safe and let their imagination run free. Along with this Arklu have made dolls that belong to an inclusive place where every child belongs regardless of gender, ethnicity or ability. The first doll they made took 18 months as they researched every area they felt was needed, including retailers, child psychologists, nutrition experts, parents and of course children themselves. The doll's bodies are in proportion to that of a 9 year old child! The dolls are based on real kids, girls and boys and they even urge you and your children to submit any ideas you have to help them create the next new Lottie Doll!
Whats more this company is Irish. Now I can't help but be biased towards an indigenous company creating such ingenious little dolls. They are based in Co. Donegal and have a myriad of awards to prove the team up on the North West of the country of Ireland know what they are doing, simply because they have a passion. Protecting Childhood.
The Finn Doll is one sale right now and along with his kite accessories, there is a fishing set that can be bought for him. The Sammi doll is a brand new boy doll that is a junior reporter. I love the fact his accessories isn't the usual ball or bike! The dolls are available to buy on the Lottie Dolls website. Finn is €19.95 and the new Sammi Boy Doll is €24.95. There are some gorgeous girl dolls available also of course.
You can join Club Lottie and avail of some fab offers, from discounts to promotions.
You can buy directly from Lottie or shop their stockists here. They ship internationally so Lottie Dolls would make a fabulous gift for a little one you know living abroad.
If you would like to be in with the chance of winning a Lottie Doll please enter by filling out the contact form below I will be sending on the details to Lottie as they will pick the winner, but your information will not be shared with a 3rd party.
Have your little ones got Lottie Dolls? Whats your thoughts on Lottie Boy Dolls?
Let me know here or on my Facebook page, thanks for reading, Tracey xx
Keep up to date with Lottie Dolls Social Media Facebook Instagram  and Twitter.
Please follow and like us: