The Maybelline eraser eye concealer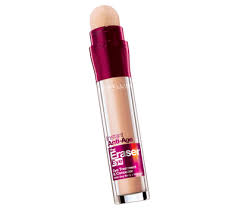 It was Pippa O'Connor's snaps that put me on to this product. I had been using NYX and the Catrice concealers for a while but they both left that wrinkled and dragged down look under the eye. The first time I used this I knew it was perfect for me, I apply this product before my foundation and it works really well patted out with a beauty blender. It goes on so light and creamy.
I did apply the concealer over after my foundation a few times but the two liquids never 'married' well together in that order. It always looks more 'flawless' when I apply concealer first.  I also used a small concealer brush to apply and blend but the tried and tested way was applied with the sponge applicator on the bottle top and blended out with the beauty blender ( I use the Real Techniques one I purchased this in Molloys Pharmacy).
As well as being as excellent product to erase the dark under-eye most of us has it does conceal very well on any blemishes or discolouration. There were a few times when I had a humdinger of a spot and needed to go in with industrial strength cement never mind concealer and in this case I used the Amazing Cosmetics concealer to hide whatever I needed hidden.
The concealer lasts a good bit too, I would use my concealer probably 5 days a week and I had it for a good number of months on each purchase. It costs €11.99 in Boots, but I try and buy it when they are doing offers on Maybelline products and that way I have no choice but to try new products! Boots are doing an offer on Maybelline at the minute actually, buy one get second half price!
I use the shade 'light' as I am quite pale, there are only two shades to choose from at the minute the other slightly darker shade is 'Nude'.
So short and sweet review of my fav concealer this year and probably for 2017 by the looks of things! There are links attached to the post if you want to purchase or need more information, if you want to know any more please don't hesitate to contact me here or on Facebook or Instagram!
Hope you enjoyed
T xx