31st July 2009
I was probably taking to the floor for our first dance this time 8 years ago. We shuffled along to Etta James's "At Last". I say shuffle because moving left to right was about as much of a waltz as I was going to get out of my husband! Some people have two left feet, my hubby dances like he has concrete shoes on!
Anyway 8 years…quite a long time. Something to celebrate you might think… maybe. Yes my wedding day was an amazing day but not just because I was marrying himself. We never needed a ceremony to prove anything between us, we knew from day one how strong we were as a couple and the ivory dress, vows and speeches were fantastic but they didn't make us any stronger or more solid. It was life and its ups and downs that strengthened our relationship.
It was a natural progression to get married, it was the next expected step. Well to be fair, we did do it arse-ways, we had the baby at 19, mortgage at 25 and married at 27, but for us it was the natural next step!
A Big Party
It was the only day I had nearly every single person I have ever cared about under one roof it was a full day of catch ups, dancing, laughing, crying and photos and more photos. It wasn't an overly romantic day, I don't think I spent more than 10 minutes with hubby after the meal! We enjoyed the fact everyone we knew was there for us.
The memories from our wedding also makes me sad, there are so many people in the photos or in the wedding DVD that is no longer here, most especially my dad. One of my favourite moments of the day was waiting on my wedding car in my home house and everyone had already left. It was just me and daddy, we had a glass of prosecco (cheeky cigarette) and chatted away just the two of us.
What really matters to me
Whats a lot more special to me than our wedding is the day we became a couple because if I had not asked him to out with me…yes I asked him out!! The last 17 years and the adventure we have been on would never have happened. To me our relationship is much more important than a marriage. We have been through some tough times and some unbearable times that no couple should have to go through, but we did it and we did it as Kieran and Tracey, not Mr & Mrs. We did it by laughing (even in the most sad situations) we have always made each other smile. We have had amazing times together. We have created this little family of ours together. We have supported each other's ambitions.
We have fought, we have cried, we have shouted we have gone days without speaking to each other. I have hated him and I have driven him up the walls.
And so to the future
There are 2 anniversary cards on my mantle piece tonight, one from my sister and one from my mam. We didn't buy each other anything or exchange cards. We don't need to celebrate the day we signed a piece of paper to prove we were a unit or solid. We became a unit and a team and a force to be reckoned with the night the DJ played "Fairy Tale of New York" in December 2000.
So Happy Anniversary Mr. Smith… 6205 days together… 2920 married and a life time yet to come xxx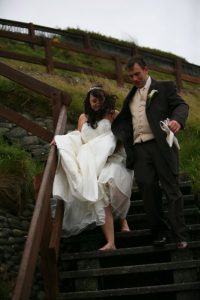 Please follow and like us: