It was one of those products I kept eyeing up…for months I kept saying will I buy into the hype? Or is it just an expensive serum? I had been just getting over a bout of dermatitis on my face and I was genuinely anxious about using a quite active product.
My First Impression
The first time I used the Pestle and Mortar Hyaluronic Serum I was surprised at how fast it soaked into my skin. The serums I had used in the past, sat on my skin and even the next morning my skin was still greasy. I woke the next day and my skin (no joke) looked better. It was more even and so so soft. I continued to use the Pestle and Mortar Hyaluronic Serum for the next few weeks at night. At the weekend I rarely wear makeup so I would lash it on in the morning also.
Every day I noticed the little changes and improvements to my skin. It was so much brighter, the redness around my nose reduced, that greyness and almost blue toned tinge to my skin had improved massively. One of the main differences I noticed from using Pestle and Mortar Hyaluronic Serum was how well my foundation sat and lasted. It created a perfect blank canvas for my base.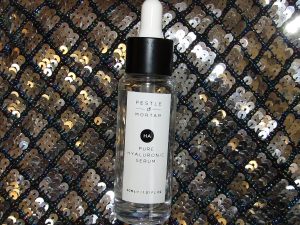 I was delighted with how well it was working. There was no doubt I was going to re-purchase the Pestle and Mortar Hyaluronic Serum.
Then I stopped Using It…
Last Thursday my Pestle and Mortar Hyaluronic Serum rolled under my locker and every night I was too lazy to get it, so I used another product I had at hand. On Monday 3 days after I hadn't used the Pestle and Mortar Hyaluronic Serum my skin was patchy, uneven and and the redness reappeared around my nose… I put it down to being out at the weekend and the copious amounts of vodka I consumed, along with the copious amount of carbs I shovelled the following day. But yesterday I looked at my skin in the afternoon and my makeup was flaking around my nose, my pores were like craters. It just looked crap.
This is when I knew 100% that the Pestle and Mortar Hyaluronic Serum was a game changer for me. I was impressed before, but now I could actually notice the difference when I stopped using it. That was enough for me to be even more convinced of how good this product actually is. There is a reason it's always out of stock, people know!!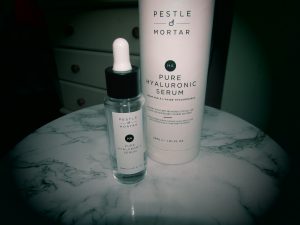 One bottle of this magical potion…sorry Hyaluronic Serum lasts about 3 months. It costs €43.00 and I purchased mine from Molloys Lifestyle Pharmacy.
I like to change up my skincare every few months. I believe it is pointless sticking to one routine all year round especially when the climate changes, diet changes, environmental changes all can have an effect on our skin. While this may be true, the Pestle and Mortar Hyaluronic Serum will remain a constant.
Have you tried the Pestle and Mortar Hyaluronic Serum? If so what did you think? Let me know!