Okay so if you are like me, this time of year will be spent thinking about getting my act together for Christmas and the Big Man's Arrival on December 25th. Now I say "thinking about" because I will engage my brain into making a plan but in all likelihood the plan probably wont be carried out until very late November early December. At the same time you might be one of those…you know the types, the ones who pick up Christmas presents from the previous January sales and throughout the year. Now I have nothing against people that do this, feck it some of my best friends do it. Doesn't mean I have to like it though. Like, why can't you just panic buy in November like the rest of us?? I am not one bit envious of your organisational skills what-so-ever **enter cricket noise here**
I know Halloween hasn't hit yet, but look there no harm putting the feelers out and finding out whats cheap, where.
What I have decided to do is give the big man and anyone else that needs it a hand and locate the best place and price to pick up the most popular Christmas gifts of 2017. I have tried to break this up into categories, bear with me a content writer for Argos I'll never make! Also there are sales happening every day on the run up so obviously I will share offers on my social media if I spot them changing! Also there is the option to buy on a UK or US site and use Address Pal I know Sharon from Behind Green Eyes wrote a blog post on how you can use this option I'll link it here 
So lets start with Bikes and Trikes as its always a popular request…
So starting with the little ones first
4 in 1 Mickey Plane Activity Ride On and 4 in 1 Minnie Plane Ride On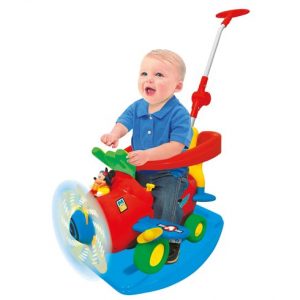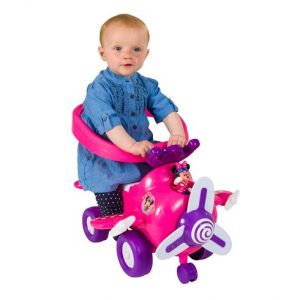 I bought this for Callum for his 1st birthday, it is such a handy car. It has a protective barrier when they are too little to keep themselves supported and a little rocking base. It also has a adjustable handle for people to push the littlest ones about. When they get older you can remove the base and sides and they can use their feet to maneuver the car.  It is battery powered and the propellers go around as well as loads of buttons and levers, lights and sounds! You can pick these up in Smyths Toys for €69.99
Little Tikes Princess Horse and Carriage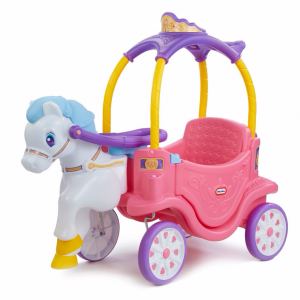 I can imagine a 2 year old Chloe going mad for this little beauty! This can be bought in most toy retailers but the cheapest I can find it is at €104.49 in both Argos and Littlewoods. The little ones can be pushed when they are really little of use their feet as they grow. The head moves from side to side and it plays clip clop noises!! How cute!
Little Tikes Cozy Truck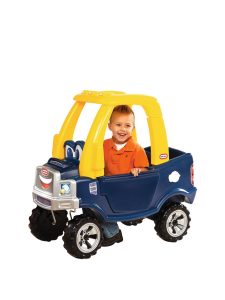 This off-roader is an upgrade on the traditional Red and Yellow Cozy Tikes car. The wheels will help little ones over gravel and grass and they will look very cool doing it! the cheapest I can find this bad boy is on Littlewoods for €82.99
For those little ones who are getting their first big wheels balance bikes are a great place to start
Chillafish Bunzi Balance Bike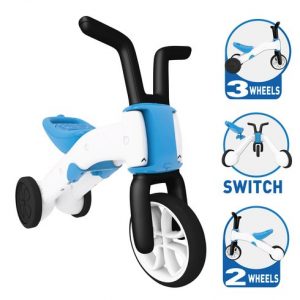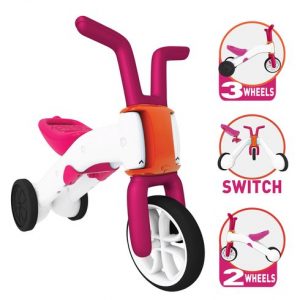 This balance bike is super handy as you can change it from three wheel to two when they get a little but more confidence. It is very light and easy to carry (because y'all know we're gonna be carrying it half the time!). You can get it in pink and blue at Smyths Toys for €44.99 *I have picked one of these up for Callum*
Bikes for 3-12 year old boys…
Disney Cars 3 2 in 1 10 Inch Training Bike

How adorable is this bike? Its a good price too at €49.99 in Argos! It is perfect for a first bike! From 1 years onwards
12 Inch Strike II Bike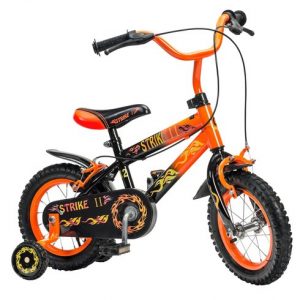 This 12″ is a lot sturdier than the previous bike. Its a "big boy bike" as my two would say! My twins actually had this bike and I have to say its a sturdy hard wearing bicycle. Its €69.99 in Smyths and it would suit an avergae 3 year old to 5 year old child.

This is a class bike that I know my two would ADORE it. Its pricey for a small bike though at €119.99 there would be no way I could get 2 of these BUT it may be the perfect gift for some lucky batman fan! Again I spotted this in Smyths! 14″ will generally fit a 4 to 6 year old child.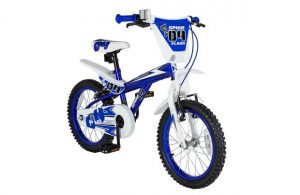 Finally this super cool bike is perfect for 5 to 8 year old boys who have begun to zip around without their stabilizers. I spotted this in Argos for €101.99 
Bikes for 3-12 year old Girls…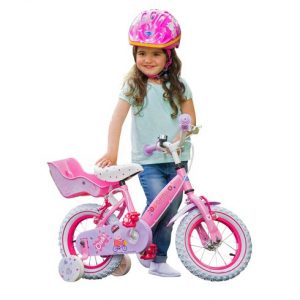 There isn't many little ones who doesn't love Peppa…unfortunately. This is in Smyths, for, again a bit of a pricey price point of €119.99. A lovely little first bike for 3-5 year olds.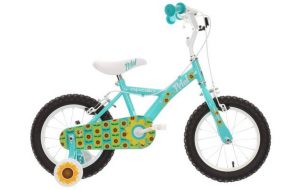 How "My Girl" is this bike?? (If you don't know who or what My Girl is…we can't be friends). If there was an adult version of this bike I could be tempted!! I saw this in Halfords for €80! A really useful thing about Halfords is the after care service you receive when you purchase a bike from them. They offer free 6 week check ups. There is lots of accessories to go along with this bike, a sunflower bell and bike water bottle! This is a perfect second bike for 4-6 year olds. I have linked it all above so you can have a look!
Because not every girl is a girly girl, here is a BMX for those girls who hate pink! I love the colours on this bike, they are so unusual for a girls bike. Being a BMX bike it has all the parts you need to practice your stunts and moves! I saw this on Littlewoods for €189.99, expensive I know, but it is a BMX and its a 20″ bike so it maybe one of the last domestic use bicycles you will buy for them.
Every year there is a top 10 wish list of kids toys, so I have taken some of those and some of the things I know my 3 are eyeing up in their bibles aka Argos and Smyths catalogues! In no particular order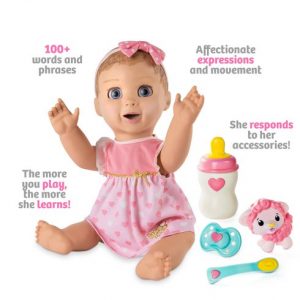 Now my daughter is almost 16 so my knowledge with dolls is practically zero. I rely on research from friends and online to find out what dolls are popular. Apparently this one is… Here are some of her features from Smyths website.
This lifelike Luvabella Doll responds affectionately to love, changing her expression just like a real baby.

Luvabella will amaze you with her true-to-life facial expressions and personality! She moves, talks and plays just like a real baby. Through touch and play she affectionately responds to your love. Cover her eyes for a game of peek-a-boo, tickle her tummy and toes to make her giggle, or place a hand on her chest to gently listen to her heartbeat. You can even hold her feet to hear her say "mama" and begin to babble!

The more you play with her, the more she'll talk. Her babble will transform into over 100 clear words and phrases! Caring for Luvabella is fun with her four interactive accessories! Use her spoon to feed her and she'll chew with delight! If she's not full, she may ask you for more. After her meal, help Luvabella learn new animal names and sounds with her Lamby toy! If she gets fussy, all she needs is her soother. When it's time to go to bed after a big day of play, lull her to sleep with her bottle. Get to know all of Luvabella's real baby surprises!
This doll seems to be sold out in a lot of places its still available in Smyths for €119.99, www.thetoyshop.com for £99.99, it is a little cheaper in Littlewoods but it is out of stock at the minute €109.24.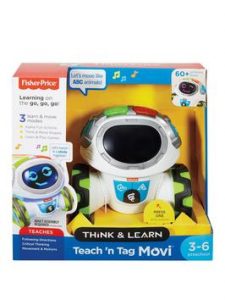 This is a cute little pre-school educational toy from Fisher Price. It has all the usual elements that help kiddies with critical thinking, shapes and colours, but with this guy he moves about and keeps them on their toes (literally!). He has a little face that changes his facial expressions upon every prompt from the kids. I know Callum would get a kick out of this one! The cheapest I can find it is on Littlewoods for €45.99 it is due back in stock mid-November though! The next best price for Movi is on www.toys4you.ie for €48.99.

Every year there is always a craze with some sort of interactive animal. They love them stuffed animals, they wouldn't have as much craic with their own pets!! Anyway about Tyler Roarin' Tiger…he responds with 100+ sound and motion combinations, if your child roars he roars, responds when he is given his toy and bows when he roars. I will be honest I know this is top of the Toy Wish Lists this year but to me it looks and kind of sounds like those little furry doggies from the late 80s early 90s that barked and flipped over…no?! Anyway if this is on your list…you can purchase it on Argos and Littlewoods for €126.95 which is bar far the cheapest price.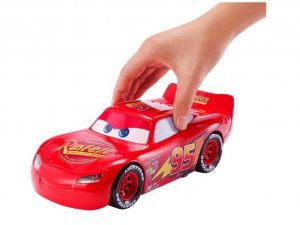 For years now Cars has been such a popular movie with kids and adults! We are now up to Cars 3 and this little bit of merchandise is appearing on lots of wish lists. It is interactive, reacts to motion and says lots of the iconic phrases and sounds. The best price for Lightening McQueen is on Debenhams for €29.40. The stock levels seem to be low though! It is available in Smyths for €29.99.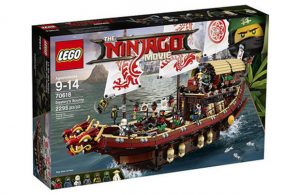 I am not going to pretend I know what Ninjago Movie is about, but I know what LEGO is about…it hurts when you stand on it and it always appears on my bedroom floor somehow!! Sorry I digress… I have to say if your little creators manage to make this it would be class. There seems to be lots of figures and little extras that come with this, so I can imagine after the hours (and tears) it takes to build it, there are many hours of fun and games to enjoy. The cheapest I can find it online is on Argos for €111.14 and they are offering 25% off construction tape if you buy this set…handy in my opinion!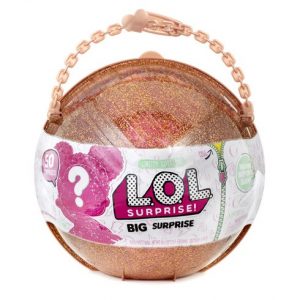 Okay so this is probably pointless putting this here as it seems to be sold out everywhere but look, we can't avoid the elephant in the room/on the blog. I can't pretend to know what in the name of all that's good and shimmery is in this egg. Personally for me for that price…it would need to be a couple of MAC lippies, an Anastasia Beverly Hills Palette oh and my own personal MUA to make it worthwhile! But if your little shi…ahem sorry darling has requested one of these you get pre-order them in Smyths in the next few weeks for €72.99 I have spotted some on Amazon and Ebay for approx £100 sterling *gasp*
Littlewoods have mini versions of this egg for €24.99 and they are expecting stock back in mid-November!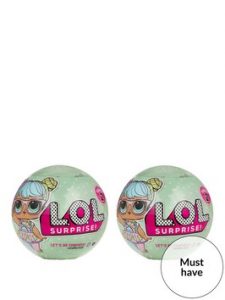 Toilet Trouble From Hasbro Gaming
Please follow and like us: