So Tomorrow is the big day! March for Choice 2017. Myself and Chloe will be making our way up to the big smoke for our first march. I remember last year seeing images from TFMR placing their white roses outside the Dail, it was so poignant.
I have always been pro-choice.
It is my opinion to have no opinion on another person's body choices especially a woman. I have always believed if a woman needs to have an abortion because lets face it, an abortion is a need not a want, she should be granted to basic right of the choice. But I have been ignorant in the past. I closed my ears and eyes to things that didn't affect me.  You know what happened though…
It affected me and scarred me.
By now some will be aware I became directly affected by the 8th amendment when I delivered my daughter Grace in Liverpool's Womens after almost 36 hours of labour with her.
I remember the very first time I heard of the 8th Amendment… It was when I asked my consultant why I couldn't be induced in Ireland. She said it's a grey area because of the 8th Amendment. I'm actually embarrassed that I didn't know of the 8th. Grace was my 5th pregnancy, how did I not know there was legislation in place that could hinder my health while pregnant.
I remember pottering around the kitchen maybe a year before I was pregnant with Grace and Ray D'Arcy was on the radio… I wasn't really listening but I did hear him talking to a woman who terminated her pregnancy because her baby was dying. I stopped for a moment and thought this is a heartbreaking story and moved on with the rest of my day.  This was the founding of TFMR
Why didn't I get mad for these couples? Why didn't I campaign for women's bodily autonomy?
Simple. They didn't affect me.
But then February 18th 2014 at approximately 2.30pm when my consultant told me the results of Grace's scans…
… Then it did affect me.
So I'm marching tomorrow beside and for those women on the radio I didn't get angry for, the women who have been forced to continue their pregnancies whatever the reason, I'm marching for every woman who is not here to March, especially those who lost their lives because of the 8th, I'm marching for my daughters, my 15 year old's bodily autonomy and my baby  girl's memory.
I'm marching for every single female in Ireland.
The last time I walked around by the government buildings in Dublin was the day we travelled to Holles Street to be told there was nothing this country could do for us. I walked past that building carrying my dying baby girl inside me, I looked in past the gates and thought the people within those walls have no clue what is happening to women out here in the real world.
So I'm marching tomorrow once again to the Dail, this time I'm carrying anger, grief and my baby girls picture.
I'm marching tomorrow for choice the first and hopefully for the last time.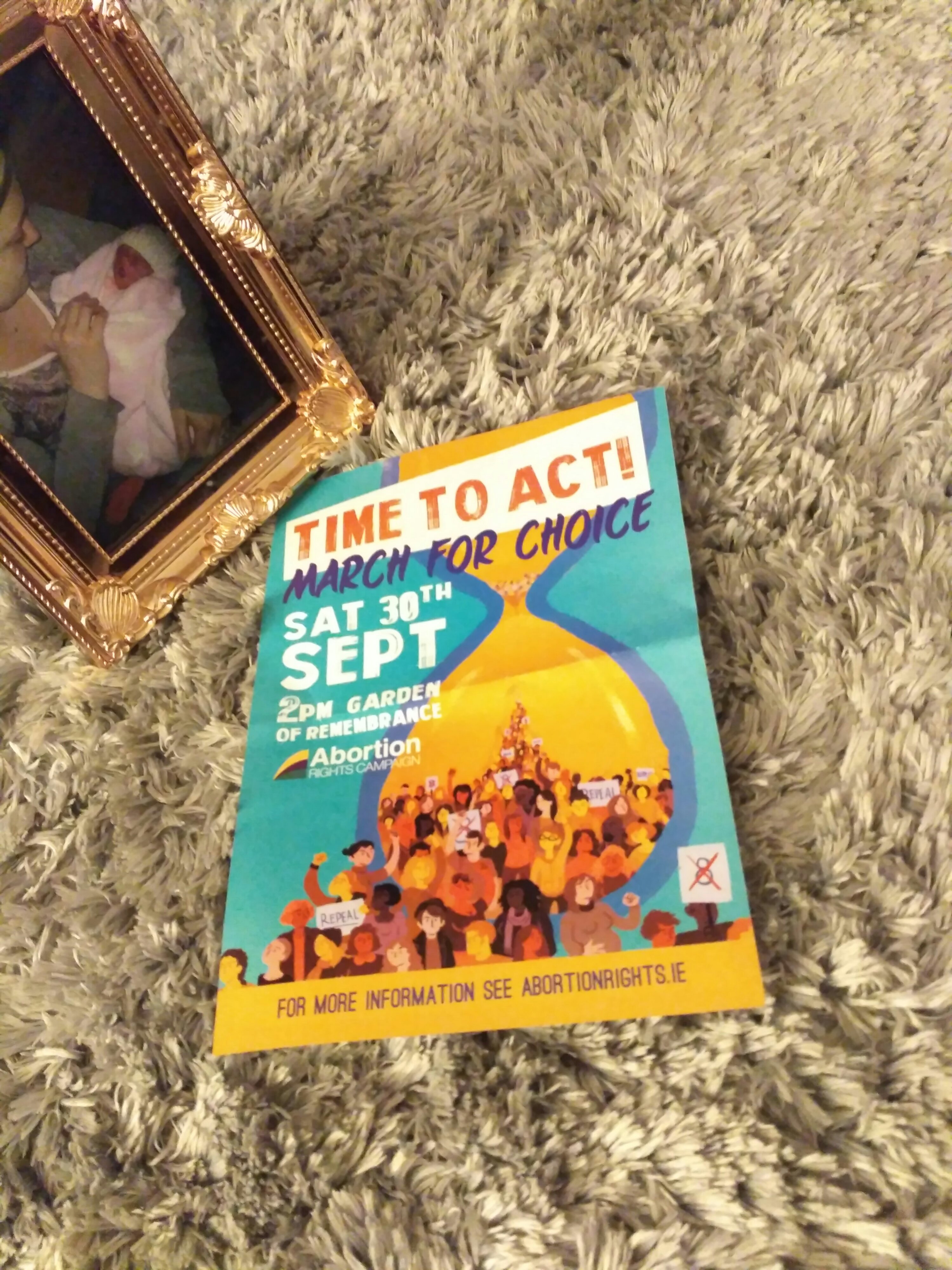 If you are around the city tomorrow please do join in and March in solidarity with us 💖
You can read Grace's Story here
Please follow and like us: