Follow my blog with Bloglovin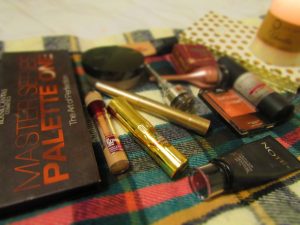 I am pretty obsessed with makeup it has to be said. I find nothing more exciting then to go to a pharmacy or department store and spend hours, swatching and looking for a little treasure of a find! This obsession is relatively new I have to admit, it was shortly after Callum was born I began to watch and follow beauty bloggers. It always takes me a good 6 months before I feel any way like my old self after I have a baby, so I presume my love for makeup was me trying to take some control back on my body and my mind…in some weird way.
My daughter had bought me a makeup brush the previous Christmas and apart from that and a random eye shadow brush I used my fingers to apply whatever makeup I had sitting in my drawer and I will be honest, some of this makeup did originate from the height of the Celtic Tiger!
I bought my first set of brushes November 2015…a 12 piece Blank Canvas face and eye set. I never looked at anything with quite as much love as I did them! One of my first reviews on them here. Slowly but surely I built up my makeup collection, budget and high end (mainly budget). I love pulling out a foundation I haven't tried for a long time and giving it a whirl for a few days, there are some products though that I cannot be swayed away from no matter how many other alternatives are on the market. So it got me thinking, for those who are not sure what should be in their makeup bag, maybe I can offer some insight! Now as you know I am not an MUA, I am simply a busy mum who knows what she needs to put on to look half decent (to look fully decent I would need at least 12 hours sleep, a good 2 hours on makeup and hair!).
You don't need a million IKEA Pot plants full of every shape and size of brush, you don't need to increase your overdraft to afford the products, this is simple, pared back essentials.
Base
First off lets start with the base, that's your primer, concealer and foundation to you and me. Now I will be honest and admit the only time I use a primer is when I have an occasion or I am going out. Using a primer though will help your makeup to last though and it creates the perfect even base to apply your foundation. Lets face it we have all applied our regular foundation and found it just didn't sit right and looked almost flaky, using a primer will help stop this. Its a lot like my fireplace, I wanted to change it from pine to cream, but I needed to (okay my father in law needed to) apply a primer first, to ensure the top coat goes on evenly…and that's as far as the similarities between my mush and the fireplace goes!!
The primer I tend to reach for is the Flormar Illuminating Primer (€9.95), its consistency is almost like a serum. A little pump is more than enough. Once you apply it let it sit so the tackiness dries. Then go ahead and apply the rest of your base.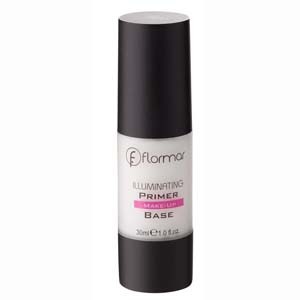 Next up is concealer, I have chatted about this concealer before and it really is my go to,  you can read a more in depth review here (its one of my first so keep that in mind!) Its The Maybelline Eraser Eye Concealer (€11.99)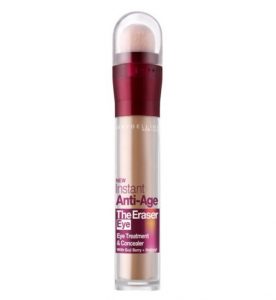 I use the shade 'light' and I use the sponge applicator it comes with. I usually apply my concealer in triangles under the eye and on any other blemishes I want to conceal. I then go ahead and buff in the product, pay attention not to rub the product with your brush as you will literally rub it away, buff in the skin. Another tip for concealer would be to apply it using your ring finger, the pressure is very gentle and the finger warms up the product allowing you to blend it better. Now there are no hard and fast rules as to when you should apply your concealer. I apply mine before my foundation as I prefer the way it looks, but lots apply it after the foundation.
Onto your foundation, it took me a few years like many of us to realise you want your foundation to match your skin, not darken it. You also want to aware of your skin tone, there is a little test where you can look at the veins on your wrist:
If the veins are mostly purple or blue you are cool toned.

If the veins are mostly  more green, your tone is warm.

If you have neither mostly green/purple or blue you are most likely Neutral toned.
Now onto the perfect shade of foundation, there is a website called Findation that really takes the hassle out of choosing the perfect shade.
You now should know what skin tone and foundation shade will suit you best. Onto my favourite foundations for your makeup bag, depending on your skin type.
So I have an oily T-zone, this means the excess sebum on my forehead, nose and chin helps makeup slide of my face come 12pm. Apart from a good setting powder, a good mattifying foundation is a holy grail for me. My holy grail is L'Oréal Paris Infallible 24H-Matte Mattifying Foundation in the shade Vanilla (€11.99). This foundation sits on my skin perfectly from morning until night without budging. One thing to note with this foundation is how it oxidises, that is, once it leaves the tube it reacts with oxygen and darkens on the skin, completely normal just something to be aware of. If I were you, I would swatch it in the shop, then have a look at how much it darkens within a few minutes and choose your shade from that.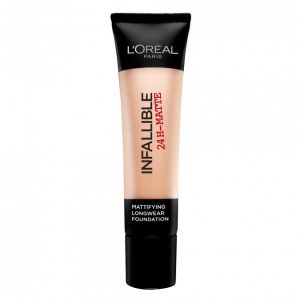 If you have dry skin I would recommend the Note Cosmetics Luminous Moisturizing Foundation (€9.95), I have used this and the finish is ah-ma-zing. I did struggle with it at the start I must admit especially the shades as they are quite limiting, but once you get it right and apply it with the right brush and set it…Oh Lordie its an amazing foundation for the price! I can only imagine how fab it is for a drier skinned human!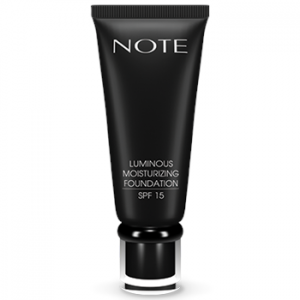 That brings me on nicely to setting powder, again I rarely use it unless I use a foundation like the NOTE one above that is more suited to dry skin. If I am putting effort in though, I will use Boots's No. 7 Translucent powder €14.50).
It is a loose powder and sets the base nicely.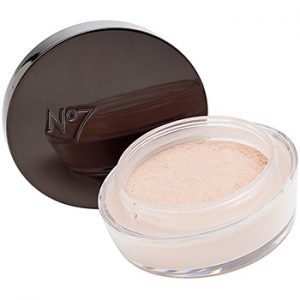 Eyebrows
Next up is eyebrows…how in the name of sweet Jesus did I ever go around with my natural eyebrows and think I was half decent???! Ah no I joke as I know there are loads of ladies who don't like the filled in look, personally it makes my face. I love a good arch!! So on my eyebrows I use Benefit's Ka Brow! (€26.00) Its a brow gel and it is very easy to work with, it has a little applicator in the handle. Gentle strokes create a filled and fluffy eyebrow. As much as I love Benefit it is expensive to use everyday, I started using L'Oreal Paris Brow Artist Pomade (€14.99) last week and I have to admit, it is a total dupe for the high end brand. It is so workable, you will find it hard to make a mistake.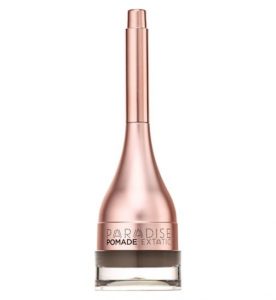 Lashes
Onto my desert island item, mascara. I could not live without this stuff. My go to mascara at the minute is an oldie but a goodie, L'Oréal Paris Telescopic Mascara (€16.99). I adore this stuff, the version I use at the minute is extra black (the gold tube) but I honestly have been using this off and on since about 2003. It's like magic. The wand is so skinny and small it gets into every lash no matter how tiny and lifts and curls. I have used other mascaras including high end and budget (Catrice is my second favourite, review here) but Telescopic is my firm favourite.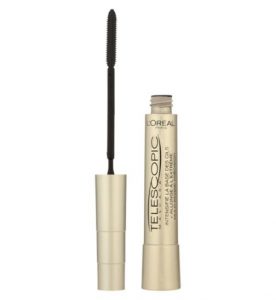 Blush
Another product I only began using circa 2006 is blush. It was never a popular product for a 90s girls back in the day. The paler you were the better back then (I blame The Craft). I am not a huge blush lover, so I am pretty fickle when it comes to blush. I do have a favourite night time blush though, the Wet N Wild Color Icon Blush in the shade Pearlescent Pink (an old review here) it is a complete dupe for Nars Orgasm. For a more subtle day time colour Note Cosmetics Mineral Blush in shade 101 is a beautiful pink hue that suits most Irish skin tones.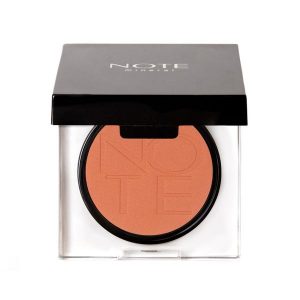 Contour
Contour is a relatively new essential for our makeup bags. I'm not talking about lashing on the cream contour first thing in the morning, think more shading the face for everyday, more a subtle carving out of our cheekbones to create a more defined shape. I adore what a sweep of bronze or contour does for me. Every day I use Benefit Hoola (€34.00), now it can be very dirty on the skin at times, so I was on the hunt for the Hoola Lite, instead when I was in the airport recently I picked up Hoola Quickie Contour Stick. Sinead from the Beautiful Truth raved about this being perfect for a subtle contour and she didn't steer me wrong, the first few times using it was a bit finicky as it is a cream contour, but once your learn how to blend it in correctly it leaves a beautiful subtle appearance of defined cheekbones. Of course for night time, you can double these.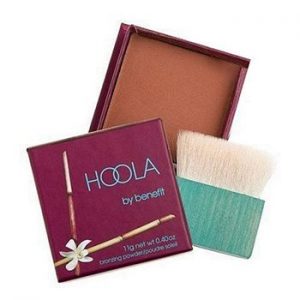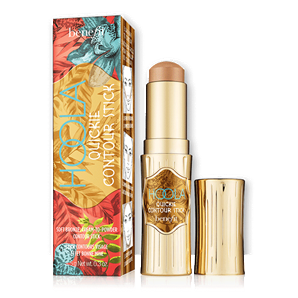 Lips
Finally an essential for your everyday makeup bag is a lip product, I love the L'Oréal Paris Color Riche Lip Liner (€5.49) in the shade Beige. It is a much cheaper dupe for my favourite lip product Charlotte Tilbury Pillow Talk. (which I lost last weekend!). I usually use this liner as an all over colour. Some other favourites for the makeup bag are The Balm Meet Matt(E) Hughes liquid lipsticks (€16.50) and MAC's Mehr and Velvet Teddy (€20.00) are two of my favourites!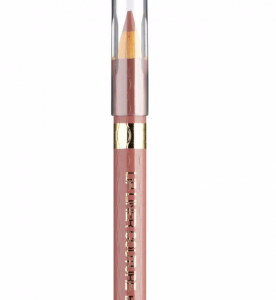 So that's the products, there really isn't that many. Next up are some brushes that help make applying the makeup a little easier. There are a myriad of brushes you could use for each product but usually brushes are multi-functioning so you can use them for a couple of different reasons.
Brushes
Blank Canvas F20 (€14.95): This brush is the piece de resistance in foundation brushes. You can use this brush to buff in your concealer and your foundation. It is a flat head stippling brush so bouncing it off the skin will help create a flawless base.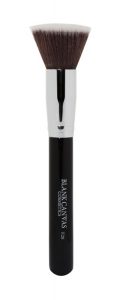 Blank Canvas F15 (€14.95): This tapered head brush is perfect for applying and blending contour and bronzer. It can also be used for your blush.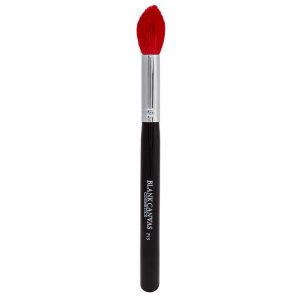 Buff and Blend BB24 (€14.00): I cannot believe I have only been using this blending brush for a few weeks. It's nothing short of amazing! One of the biggest mistakes we can make with eye makeup is not blending. This brush, it blends for ya!!
Blank Canvas E30 (€8.95): I know I said you could use the applicator in both the eyebrow gels, but they will clog up pretty fast, this brush has a spoolie (eyebrow brush) and an angled applicator for creating the sharp brow.

Buff and Blend BB09 (€14.95): This is a flat head contour brush, but I use it to set the base by gently patting the powder onto my T-zone.

Palettes
I don't know if you noticed I left out eye shadow. There are not many days I have to time to create an eye look to be honest but if I was to say "here is a palette you should have in your makeup bag" it would be Blank Canvas Master Series Palette One (€34.95) without a doubt, its the perfect palette. Whether your a makeup novice or a professional MUA. Whether you want a subtle day time look or night time glam, this is the palette you should invest in. It is a warm toned palette, so perfect for all colour eyes. The shadow built and blend so so well and they are super pigmented.
A close second and new kid on the block is the bPerfect LMD Master Palette (€29.95). This would be my go to night time palette. The mix of colours are brilliant, plums, oranges and cranberry. They are super pigmented and off a fantastic colour payoff. Whats more the LMD palette, has shades for the face, it has the most gorgeous cool toned contour, a shimmery peach blush and the most fabulous highlight!! I am not one for a lot of highlight but I have to say it may just beat my Mary Lou!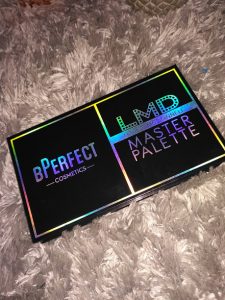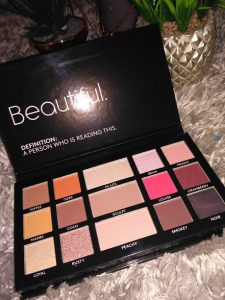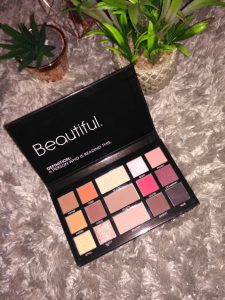 So that's it! All the essentials you need to create an everyday to night time look.
Whats your makeup bag essentials? Let me know, I love finding out about products I have yet to use!
Tracey xx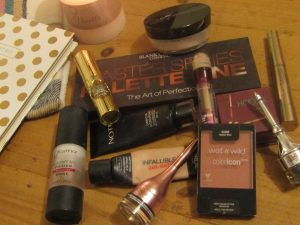 Please follow and like us: