Its beginning to Look a Lot Like…Halloween!
We are two weeks into September and we have entered Halloween Season already! Colours are changing from bright yellows and blues to blacks and oranges. It's around this time of year my twin's minds turn to what they are going to wear for the big night! Gone are they days when a couple of pumpkin outfits would do them, now they request elaborate outfits with matching accessories!!
This time of year always reminds me of when I was young, who remembers the good old sweaty plastic mask and bin bags?? I have linked a post I wrote last year on all things Halloween Nostalgia! For the past couple of years I have been getting their costumes online very last-minute (because that's me all over!) so I was only delighted when Propshopper got in touch with me!
PropShopper have just launched their website and its full of costumes for women, men and kids. I am personally delighted to see they stock more than the usual "sexy" nurse style of costumes for women, some of them actually go past your knees!! Perfect attire to answer the door with your sweets!
They stock makeup and decorations and sugar glass which is a very cool prop for any Halloween party or of course for plays and theatrical productions!
Back to the kiddies costumes… so the sizing is as follows:
T2 (3-4 years), Small (4-6), Medium (7-9), Large (10-12).
To give you a bit of an idea, Callum was sent the small and he is small for a 3 and 1/2-year-old and the Jester fits him fine (I have to pull the trousers way up – but this is nothing new for Callum, he's like his mum (a short arse!). The twins were sent the medium and they are perfect sizing (the twins are slightly above average height 7 year olds).
The quality is very good, the material is not transparent as you can get in some places and they are very durable!
They are delighted to have their costumes and now we can focus on the accessories (So they told me anyway!).
They are Irish and they offer the fantastic service of sourcing props for you if you fail to locate the ones you need!
So if you are beginning your hunt for costumes for yourself or the kids look no further than PropShopper! Whats even better I have a sneaky little discount code for you!
If you use MUMMAKEUPBAG when making your purchase your get 10% off your order! Not bad seen as the kids costumes average at the €15 mark!
You can reach out to PropShopper on their Facebook Page, Instagram and of course on their website PropShopper.ie
I have attached some photos but keep an eye out on my social media closer to the spooky night when they will be completely decked out with makeup and accessories!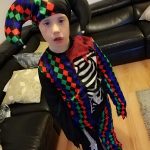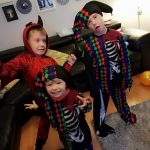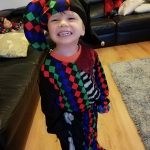 T x
---
*This is a collaboration with Propshopper and I was sent costumes in return for a blog post. The Code is an affiliate link.
Please follow and like us: