When Callum turned one, he got a few dots on his cheek, I put it down to those little spots babies get. After a week, it had spread into a small but perfectly formed circle and each week it got bigger and bigger until his whole cheek was a painful looking, itchy scab. He diagnosed with psoriasis, ring worm, impetigo, seborrheic dermatitis and was given 4 different oral antibiotics over the course of 4 months. He had every cream on prescription and over the counter. Nothing worked and it gradually spread across his face and onto his legs. We even went to get the cure for skin conditions from a couple of brothers.
Every time we tried a new cream, it was ease the rash a little but after a few days it came back.
This was Callum's skin before his first flare up: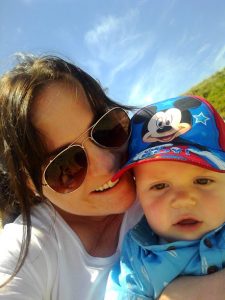 This was 1 month later: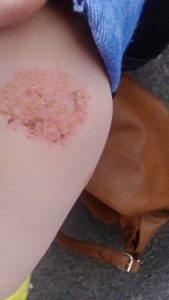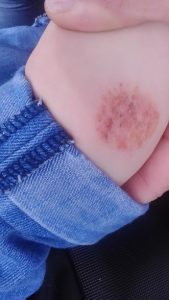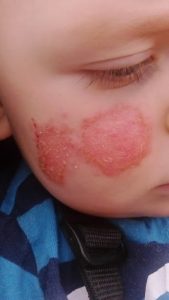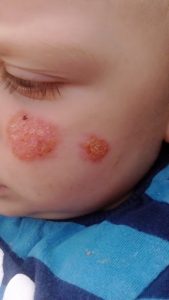 We were on the waiting list to see a dermatologist and when we went to see him he wasn't sure what Callum had. He reckoned because he had some cradle cap it could be seborrheic dermatitis, he prescribed a 1% hydrocortisone and silicocks base. I could not believe when I watched his rash beginning to fade, after few months you could hardly see it. This was brilliant but he couldn't stay on the steroid cream long term, especially on his face. As we began to cut down the amount of applications and smother him more in the silicocks base, he would have more and more flare-ups.
I searched for something that would keep his rash away so I didn't have to use the steroid cream anymore. Then I stumbled across Childs Farm. I must say the price point did not fill me with any hope, I had spent so much on his skin that I found it hard to believe a €5 bottle of moisturiser was going to work!
This is Callum's skin today!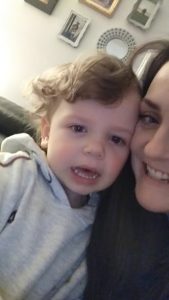 His skin was very dry and thin from the over-use of steroid and antibiotic creams, the Child's Farm softened and plumped this area on his face.
This stuff is amazing for the price. Simples.
Cleared up his eczema
stopped any flare ups
Hydrated and provided moisture to delicate skin
Allowed his skin to be clear for all the slobbery kisses a toddler should be getting!
I also use the Child's Farm range of Shampoo and most recently Bedtime Bubbles. There was a period during the height of Callum's flare up I washed him in water only with silicocks base. So, its lovely for him to be able to have a bubble bath like his brothers and I don't have to worry about his skin reacting.
Child's Farm is widely available in Golden's Pharmacy, Boots, Tesco, Inish Pharmacy and many more pharmacies. I have used both types of moisturiser on Callum and I have found both equally as brilliant. The baby moisturiser is suitable from new-born and contains a small amount of shea butter and coca and the other moisturiser contains tea tree oil and grapefruit (grapefruit is a natural antibiotic, anti-viral and anti-fungal source).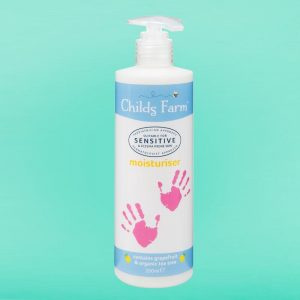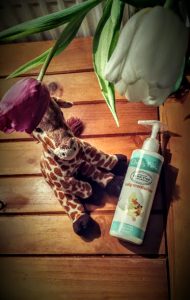 Disclaimer: This is not a sponsored post, all opinions are my own. I have bought these products myself. 
I first spoke about Child's Farm in an old blog post you can have a read of here...
Please follow and like us: