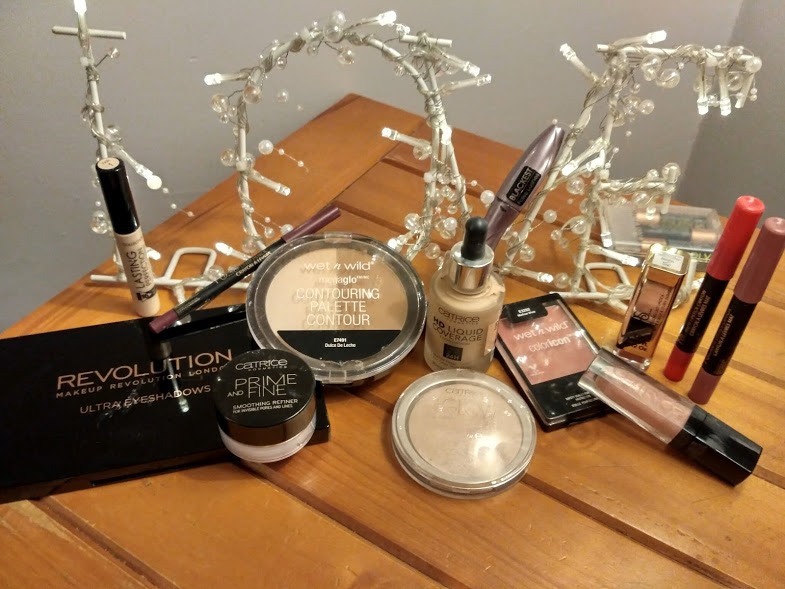 Hi I'm back to continue my little budget basket full of treats. I don't have the spare cash to blow on high end products so when I find a budget product I love I am obsessed! I hope you found the last few products I reviewed helpful for your next purchase.
Okay first up is the holy grail of budget highlighters, I think most people have this in their makeup bag but if you don't fear not I am here to give you the low down on this beauty.
CATRICE HIGH GLOW MINERAL HIGHLIGHTING POWDER
I was a bit afraid of this product when I bought it. I had been using LuLu from the Pippa Palette (I have reviewed this beauty here) in one of my very first reviews (excuse the manky images!) and I was happy with the subtle warm highlight it gave.The catrice is frosty and very pearlescent so I was very careful how much I applied as I didn't want to resemble the tin foil I wrap the kids sambos in every morning! But fear not the colour pay off it very subtle and the frostiness of the shade actually goes well with my pale foundation shade.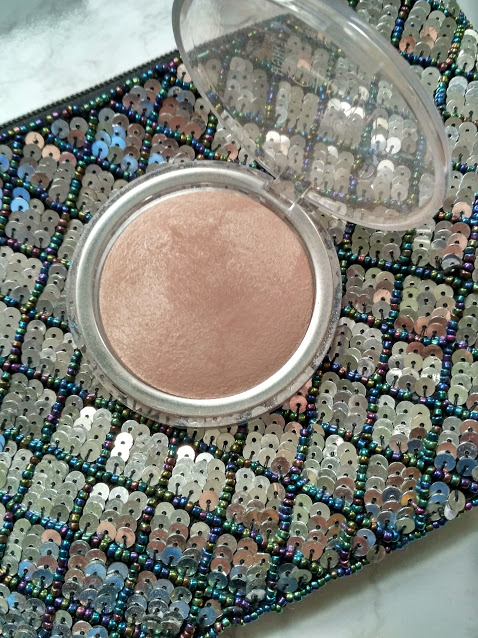 I apply this with my Penneys fan brush on the highest point of my cheek bones, a little on my brow bone and a touch on my cupids bow. The texture is not as powdery as you would think, when swatched its almost creamy. If you spray your brush with some setting spray first you will get a massive colour payoff and this would be amazing for a night time look. I picked my one up in Penneys, but it can be purchased online with Inish Pharmacies also and it retails at €5.50.
Wet n Wild Colour Icon Blush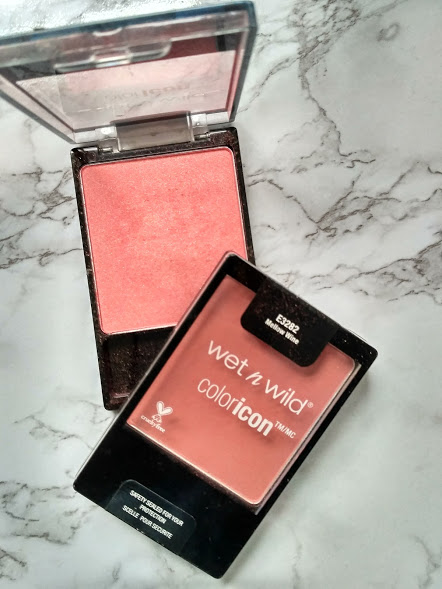 I have two of these blushes and I plan on picking up the rest of the colours soon. The shade I purchased first was Pearlescent Pink as it was said to be a dupe for NARS Orgasm. It is a beautiful coral shade with flecks of gold running through it but the shimmer doesn't create that 90s glitter like effect on your cheek bones. The pigment is very strong in these blushes, a little really does go a long way. Less is more, remember you can always add more, you cannot take away. The same goes for the other shade I have been using Mellow Wine, if you prefer to shy away from the high coral tones, then this shade will be right up your street. It warms up the face and gives a subtle glow. The retail price is €3.95 and you can look up your local Wet n Wild stockist here.
PENNEYS PS RANGE OF LIP PRODUCTS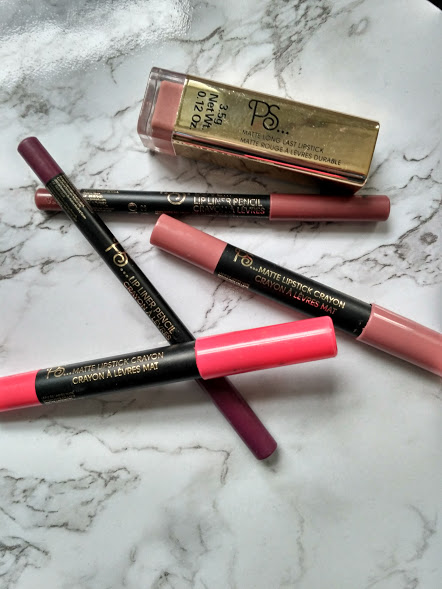 The quality of the PS range is phenomenal for the price point. The nude liner is a cult product at this stage, it goes with so many different shades and brands and any consistency of lipsticks whether it be matte or gloss. It isn't a soft pencil so it will last longer than many more expensive lip pencils. I also enjoy using the matte crayons the PS range offers, I use the Manhattan shade and these are so handy for a quick swipe of colour. The PS range of matte lipsticks are some of my favourites too, I like the shade Manhattan and an added bonus there is a little tiny gloss in the bottom of the lipstick! The liners start at €1.50…now hands up who hasn't thrown a liner into your basket while at the till…go on?!!
CATRICE GLAM AND DOLL FALSE LASH MASCARA
What can I say about this mascara that I haven't already gushed about on my Snapchat (sissymcgee3). It is probably my second favourite mascara ever! If I had a desert island product, mascara would definitely be the one, I think if you have your lashes and nothing else you're sorted!  This mascara give a wide eyed full lash effect. I am lucky enough to have long lashes so what I look for in a mascara is a more voluminous and curl effect. This mascara does all that and more. The wand is quite thin with a flat side and a curved one, so it is great to get right into the lashes from the root and for those bottom lashes. The only negative thing I will say about this mascara would be the fall out and flaking after several hours of wear can be annoying.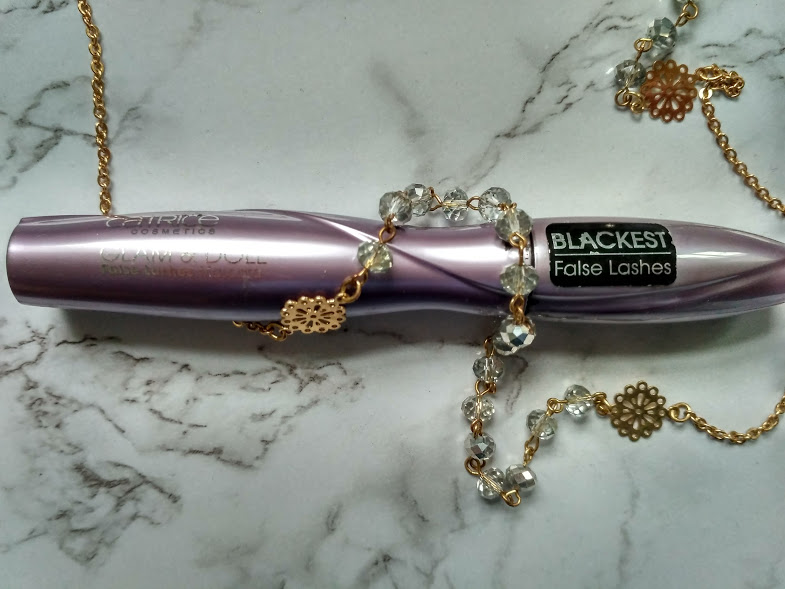 I bought mine in Penneys as I do most Catrice products but you can purchase it in the list of stockists I have linked in the highlight review. It cost €4.50, seriously under a fiver for a fantastic mascara! Where would you be going?! To your local Catrice stand, that's where!!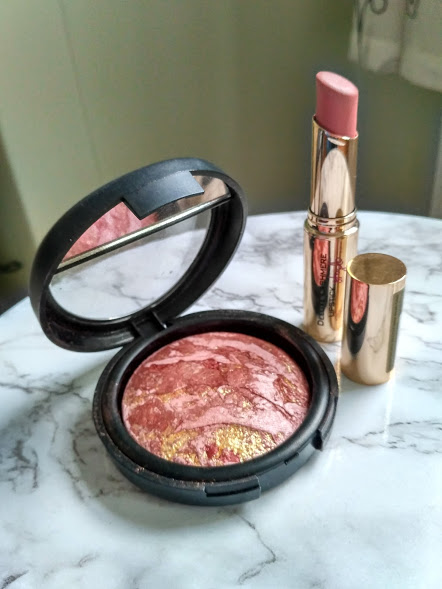 FLORMAR TERRACOTTA BLUSH AND CASHMERE DELUX LIPSTICK
I have been using the Flormar blush and radiance primer for quite a while now, most recently I picked up the Cashmere lippy on the back of a high recommendation from Michelle from Needs not Wants Blog and I was not let down. I had forgotten how good this brand is. This blush is fab on, it does leave a shimmer so if you are more a matte person, I would stay away but for a night out or an occasion definitely give this a go. The shade I use is Touch of Rose. It is highly pigmented so tap your brush before application. I use my Blank Canvas angle blush brush (the number has worn off) and it sweeps the product on beautifully. The price was €11.95. The lipstick is a newish purchase, and I am loving the colour! It is in the shade Absolute Nude and the price was €5.95. I purchased mine from Quinns Pharmacy in Ballina Co. Mayo, but here are a list of your local stockists. I team this lippy with my PS nude liner and it is a match made in nude heaven! It is a creamy consistency but there is no high shine which I like in a lippy! It does contain some ingredients which are good for fine lines, which is an added bonus.
So there ya go the second instalment of my budget beauty buys! Hope you enjoyed and if you have tried these let me know what you think, good or bad! over on my social media, click the links below!
Tracey xxxx
INSTA AND FACEBOOK:    mummakeupbag
SNAPCHAT:                            sissymcgee3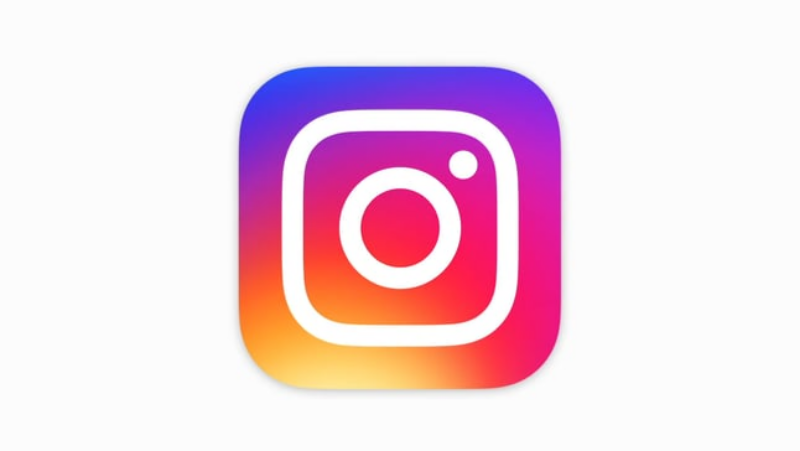 Please follow and like us: