So as you know I love makeup, love love love it. I could stand in chemists and beauty halls swatching makeup all day long! But, I have, like most people have, a life where I need to pay bills, mortgage, feed my kids, clothe them and generally not spend every penny I have on beauty products! So instead of lusting over the new Charlotte Tilbury Pillowtalk lipstick I have decided to write a review on the best affordable beauty products I have enjoyed using. That lipstick looks so fab though…*longingly clicks on the tab again*
There is nothing nicer than purchasing a high end beauty product that you know comes highly recommended, but this is done very rarely (for me anyway). So I get great pleasure is spending damn all and finding a real gem every now and again. So if you are like me and simply can't afford to splurge on high end cosmetics every month, read on I have gathered my favourite budget friendly beauty products and done a little review on them…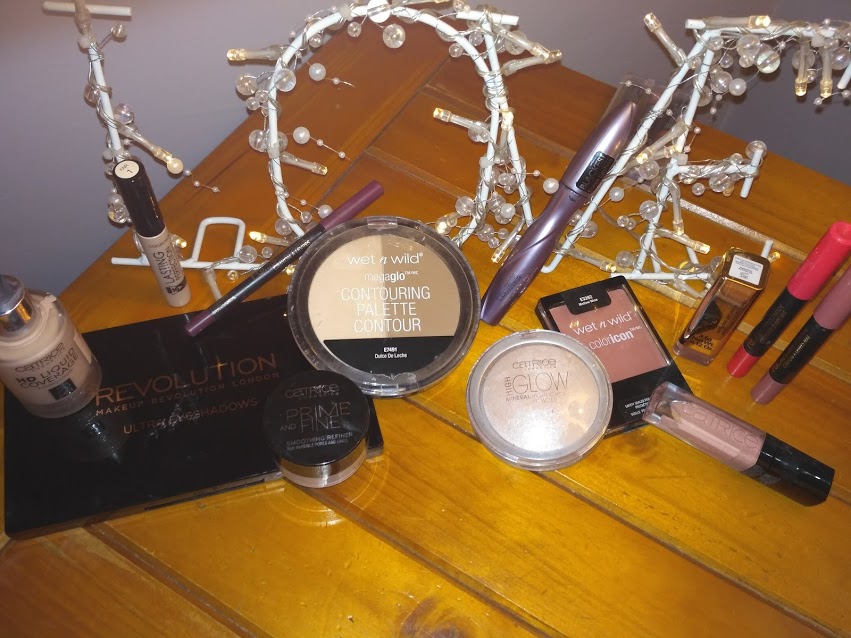 Okay so these products as you can see are a mix of Catrice, Wet n Wild, Primark/Penneys PS range, Collection and Revolution. I will attach links below to each website if you feel like a perusal!
Catrice HD Liquid Foundation..
First up let me say! I toyed with the idea of taking pictures when I had the foundation on but to be honest, for me personally looking at makeup on other people makes no odds to whether I purchase or not. No two skin tones are the same so it would be pointless to photograph it (in my opinion).
So I have naturally Irish pale skin, I am dark haired but my skin has no warmth at all (living dead!). I have recently started to purchase the second lightest colour within most ranges as sometimes I do have to "warm myself up" with bronzer! I have always chose the lightest of the light, even way back when I purchased my first Max Factor compact in 1995 (never had a Pan Stick, I am very proud of that!).
So back to the makeup! This little beauty comes in 4 shades. I chose shade 020 and it is the second lightest shade. The texture is very watery, so where ever you usually apply your makeup from i.e. back of your hand a few droplets of this will go a long way. The applicator is a droplet, I would suggest buying the little mixing palette and spatula from Penneys for this type of foundation as it is so handy to control the amount you apply to your face. They are €4  so not a huge expense and they are so handy if you want to darken your foundation with tan or lighten it with the Body Shops lightening drops, just mix with your spatula.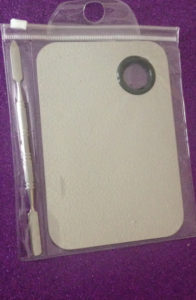 I apply mine with my Blank Canvas F20 bounce it on rather than rubbing it around your face. Another method that is effective for this foundation is using a beauty blender, I like the Real Techniques one, just dab it on…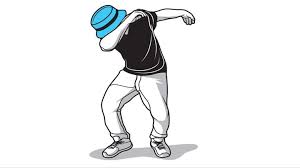 until even and flawless. I have an oily t-zone so I do need to pat on some powder on top, but you guys with dry skin it will give such a beautiful glow and you lucky gals who are not oily nosed the coverage will last all day, I would have to reapply around my nose but the rest of my skin would be still flawless in the evening. The price is €7.90 and you can click the link above to purchase, also available in Penneys, Inish Pharmacy and local pharmacies.
REVOLUTION ULTRA EYESHADOWS PALETTE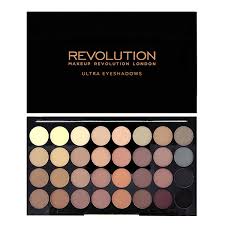 This little palette surprised me so much. The main reason I got this was because it was on offer. My daughter had a good few palettes and she liked them so I purchased this palette in Superdrug, they were doing a 3 for 2 promotion. I wanted the oil control spray (which is a must for us oily gals!), I got this to avail of the offer more than anything.
Am I glad I did the colour payoff is fantastic on all the shades and this is the great thing about this palette, if you like nudes and mauves every colour will be used. Most palettes there are always some colours you wouldn't highlight your grocery list with but honestly all the colours are wearable everyday. They blend so so well, better than the NAKED palette shadows (shock/horror!) and with little blending you get a lovely edge free, seamless eye look. They last very well too, again if your like me you will need a primer on your oily lids to ensure no creasing or fading. But it lasts all day with the right prep and doesn't move around the eye. The one thing I will say is and its not a big deal, always tap your brush before applying as one tiny swatch will pick up a massive amount of product. I had my eye on a quad shadow from MAC recently with lovely plums and mauves but I have changed my mind about spending €45 when I can use an exact dupe here with the revolution palette which cost me less than €12!! The lovely girls at Matte to Metallic have put together a stockist list of Revolution and Freedom goodies Stockists List you can also purchase products from that link. If you are thinking about getting a matte palette and are unsure about which one to go for, I highly recommend purchasing this one for your go to palette, it fits into any makeup bag better than most  palettes too!
Catrice Prime and Fine Smoothing Primer
This is a little gem to have in your makeup drawer. As you know if you follow me on snapchat (sissymcgee3) I have an issue with Benefits Porefessional. I have large open pores on my nose and the high end version just does not cut it (or cover it) for me. The texture with the Catrice version sits better on my skin, it is more smooth and greasier (not as gritty as Porefessional). Once its applied (and I use my fingers to do this, you can use a dome or buffing brush also) it turns to velvet on the skin and instead of trying to sit into the pores and fill them, it drapes itself over them and blurs them!! That is the best description I can give! One tip is let it go dry before going in with your concealer or foundation as it will sit better and last longer for you. The price point for this little pot of gold is €5.49 and can be bought in most Penneys, local pharmacies or just click Here.
WET N WILD COLOURICON CONTOUR PALETTE
I think this was the first product I got from the Wet n Wild collection and I bought it on the back of so many recommendations from beauty bloggers. There are 2 shades and the one I have is Dolce de Leche. There is a pressed banana powder and a contour shade, the shade I have is perfect for pale skin tones as the contour shade in it is an ashy grey base. The other shade is much warmer and would be suited to bronze more than shade the skin.
The cream shade I use under my eyes and T zone, I don't always use it as I prefer a translucent shade. The contour shade I apply with my Blank Canvas F15 and it is the perfect brush to get right into those hollows! Any tapered brush will do the same though. The minute I start to work this shade into the hollows of my cheeks, oh my God, I have dimension in my face! I'm only bloody gorgeous! But seriously though, immediately that flat look to the face disappears and it is a saviour for any over-eating that occurred! Chizzled beyond belief! Work with your brush up toward to temples and along the hairline, I avoid bringing my contour below my jaw bone during the day as I think it looks to harsh o me. Remember to blend blend blend and if you go to heavy, wipe the excess from your foundation brush and buff into a less harsh shadow. I am not bashing Benefit (again) but I have been using their Hoola Bronzer lately and it does not hold a candle to this contour shade! I am going to keep going with it though because it cost me almost €40 and I am stubborn like that! The palette costs under €12 and can be bought HERE from these fab outlets.
So that is part one of the little bargain basket I have gathered together. Let me know if you use these products and if there are more budget products I should get my mitts on!
As always thanks for reading and if you like feel free to share
Tracey xxx
Facebook @mummakeupbag    Instagram @mummakeupbag       Snapchat @sissymcgee3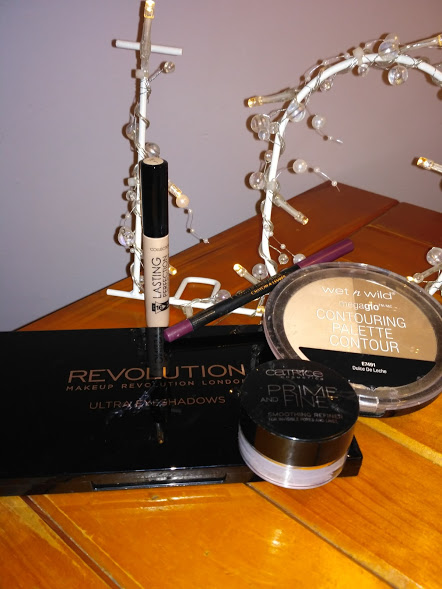 Please follow and like us: