The beginning of Snap Chat:
The first person I followed on Snap Chat was Suzanne Jackson back in 2015, I hadn't a notion how to use the fekin app but somehow I managed to install it and add her username, from there on I began to add more and more bloggers. Then the MUAs began to snap. After a while random Snap Chatters became popular like James Kavanagh who had no blog to plug or tutorials to show, they just snapped their daily lives and I was obsessed!!!
My daughter had Snap Chat and used it years before it ever became massive like it is now, but she only ever used it to message her friends. Now its like another form of entertainment, its right up there amongst Netflix and YouTube. Its a micro-entertainment platform.
I 100% became obsessed with it, I couldn't wait to go to bed at night and stick in my ear plugs and see what these "celebs" got up to every day. I learned a HUGE amount about makeup and I bought more from snapchat reviews then any million euro advertising campaign!
The Change:
Then the day came (last September) when I began this blog and I knew that having my own snap chat channel would be the next step!
Something changed for me and snap chat over the autumn and winter, well first off Gilmore Girls was launched on Netflix and I became obsessed with binge watching that every night so I neglected snap chat. But not only that I began to become bored of watching the same old snap chat stories, same old #spon #ad on every second snap. Snap chat stories started to become a personal advertising space for products.
Sharon Leavy was always a favourite of mine, she was a blogger but a completely normal human! Her snaps were so relate-able and from her I was introduced to other normal people who snapped for the craic, like myself! Then Sharon left snap chat and I have had to fill my timeline up with other normal snap chatters (usually mums) who come on snap chat just to have a rant, a chat or just blather on about anything that pops into their heads. I love this! I do it myself, I come on to talk about something and then I end up talking about the price of cabbage!!
Instead of a backdrop of Jo Malone candles, IKEA drawers and perspex makeup holders (which I will have in my beauty room when one of my kids move out!) I was watching ladies at lunch time, hair unbrushed, kids napping and a coffee in hand to have a chat. I had been a stay at home mum for 7 years until 2 months ago and honestly these ladies on snap chat got me through many a hard, sometimes lonely day alone with the kids… I laughed at Kelly's (My Little Babog) little gang running circles around her, I loved to watch Karen's (bliss bakery) foodie adventures, I found Katy's (ktk2) body painting so relaxing!
There's been so many more that I have been so glad to have found along the way, I don't get the time to watch every story every day anymore with my full time job and the full time job I get paid for!! But I still look forward to climbing into bed watching my snapping mammies and I'm so lucky to call many of them my friends now.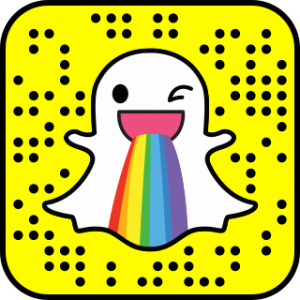 The future of my Snap Chat:
I love the fact as mothers we all have flaws, we all roll our eyes when we hear MMUUUMMMM for the millionth time that day, we cannot enjoy a hangover in peace anymore, we are all just muddling through as best as we can, we all have issues, dramas, history and we are all getting through being mams as best we can while having a fekin laugh at and with each other…
This is snap chat for me 2 years after I began watching it, a completely different timeline of people! Real people, no shit, just real life.
Until next time!
Tracey xxx
Image credit: Snapchat
  p.s. now it would be rude for me not to out up my snap chat handle!! Continue reading →
Please follow and like us: